Besides our various groups and ministries, we are also in need of people with certain skills to help out around the church. Not only does this allow you to use your God-given skills to serve the church, it can also help us to save money and to be better stewards of the contributions we get from people like you. If you are interested in helping us with any of these, please contact the office (715-384-3535 or christ.marshfield@gmail.com). Thank you!
"Each of you should use whatever gift you have received to serve others,

as faithful

stewards of God's grace in its various forms."
- 1 Peter 4:10
​

General Handyman
We have a large building and large buildings need taking care of. We could always use electricians, plumbers, painters, and carpenters to help out with some of the small issues that have a tendency to pop-up. If you worked (or are working) in one of these field or have some experience and could help us out when something goes wrong, please let us know. You can also join our Strong Backs Club on
Facebook.
Praying
There are two groups in our church that pray for our members. We could always use more people in both groups.

Prayer Chain: Every week Karen Bahn emails a list of prayer requests to the members of the prayer chain. They are asked to put these requests in their daily prayers.

Prayer Team: The prayer team is a group of people who are willing to pray one-on-one with those who need someone to pray with them. They are available on Sunday mornings (look for the people wearing a prayer team member tag). They also meet once a month to pray together as a group.
Bakers
Do you like to bake? There are two ways you can help us out.

1. Often when we have a funeral meal here, we provide desserts. You could bake something at home and bring it in before the funeral.

2. Baker's Dozen: If you are more of a social baker, you might want to join our Baker's Dozen group. They bake goodies on Sunday mornings for the Bible Study and anyone else to enjoy. You would be assigned every few weeks to come in around 7:30am Sunday morning to bake.


Kitchen Help
We're Lutherans so we love our potlucks! We are always looking for people to help in the kitchen before, during, and after potlucks and other church meals. Help is also needed in serving and cleaning-up after funeral meals.
You can also join our Kitchen Club on
Facebook.
​​
Gardening

We have several beautiful gardens that we love, but during the summer they need to be weeded. You are welcome to come whenever you are able as you see the need. It's a great thing to do as a family or with friends.

You can also join our Green Thumbs Club on

Facebook.

​
Office Help and Mailings
We are often in need of help with office work, especially with our monthly mailing. Not only do envelopes need to be stuffed, but inserts put in the bulletin and labels stuck on. Other office help is also sometimes needed.
Powered by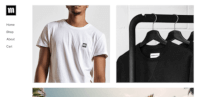 Create your own unique website with customizable templates.